FRANCHISE SERVICE "VIVA STAR COFFEE"

FRANCHISE SERVICE OF COFFEE SHOP SYSTEMS
VIVA RESERVE

VIVA RESERVE offers the experience and sense of the authentic Vietnamese coffee beans served in the personal styles to the coffee lovers with a designed area like an extension of a home away from home.
VIVA STAR COFFEE

VIVA STAR COFFEE brings you a standard service with a design concept including the open air and air-conditioning areas for the at-table service. The customers could enjoy the large range of different coffee drinks from the Vietnamese traditional coffee or European coffee.
VIVA COFFEE TO-GO

VIVA COFFEE TO-GO, which are located in the center or hustle areas of the cities, is designed in the simple and convennient concept to serve as fast-service.

INFORMATION AND POLICY OF FRANCHISE SERVICE
In 2013, with the creative dynamism and anticipation of future coffee development trends, we have initially built success and efficiency with the franchise system "VIVA Star Coffee" in Vietnam.
Currently, the franchise system "VIVA Star Coffee" has been present in the provinces and cities in the country and foreign markets: Hanoi, Da Nang, Ha Nam, Bac Ninh, Ninh Binh, Quang Ninh, Da Lat, Ho Chi Minh City, Binh Duong, Dong Nai, Vung Tau, Dong Thap, Tien Giang, Cambodia, ...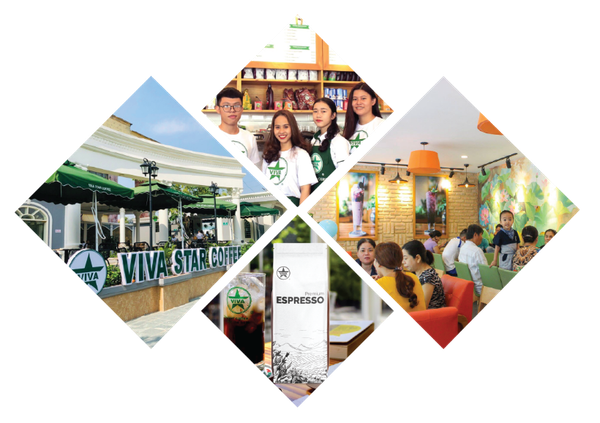 1. Franchise expenses:

+ Franchise fee: This is the fee that the franchisee must pay to the franchisor to use the brand, operation mode, business model from the franchisor.

+ Initial fee: Initial costs for preparation and assistance to start a business such as capital construction, technology transfer, training, procedures, and administration. Initial fee is based on the product packages that the franchisee wants to be franchised, the size of the store, the complexity of technology transfer and the scope of activities in the franchisee's area.
+ Loyalty fee: This is the cost that the franchisee pays monthly to the franchisor. This fee is paid for maintaining, using the brand and other benefits that VIVA Star Coffee is responsible for supporting. This fee is a fixed rate for all franchisees in the system.

2. Conditions for franchising:
- Appropriate place of business (Minimum ground area of 100 square meters)
- Understand the form of business and the ability to invest time of the investor
- Management ability of the investor
- Financial potential of individuals and investing companies

3. VIVA Star Coffee supports:
Construction, materials, recruitment and training, marketing, quality management
Franchise Consultant 1: 0906 309 988
Franchise Consultant 2: 0906 700 388
Franchise Consultant 3: 0966 077 088
For further information of our Franchise service, please go to the website: www.vivainternational.vn